Welcome to IMEDA
IMEDA Immigration Education Alliance is a non-profit organization created by your colleagues to provide you with relevant hands-on immigration education and practical tools. We are entering our 8th year of operation and we hope to help you grow and improve with every seminar we offer.
OUR VISION
To be the leading provider of quality immigration education, practical tools, and strategies to ensure the success of your clients.
OUR SERVICES
Seminars:
IMEDA presents professionally organized immigration education seminars at state-of-the-art venues in Montreal, Toronto and Vancouver. Packed with information, our seminars keep you current with what's happening in Canadian immigration policy and practice.
Webinars:
If you are unable to attend in person, IMEDA seminars are streamed live via the internet. We use the latest technology to ensure that you receive the highest quality picture and sound when you attend our seminars online.
Workshops:
IMEDA workshops give you the opportunity to learn practical skills from the experts. Using case studies and mock scenarios, workshops enable you to boost your career by giving hands-on learning in a focused environment.
Meet the IMEDA Team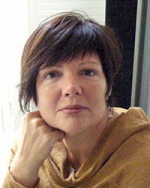 Sylvie Bertrand
Manager, Quebec Region
Katarina Onuschak
Manager, Ontario Region